Thread Sealant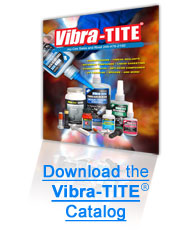 Thread Sealants seal and secure metal pipes and fittings by filling the space between threaded metal parts. Thread Sealants prevent leakage caused by vibration loosening, tape shredding, solvent evaporation, damaged threads, and temperature cycling. Designed for low and high-pressure applications, Thread Sealants seal instantly for on-line low pressure testing. When fully cured, they seal to the burst strength of most piping systems. The high lubricating properties of Vibra-Tite Thread Sealants ease assembly and prevent galling of the threads. For system repairs, parts may be disassembled with basic hand tools.
Thread Sealants protect against corrosion while preventing contamination
Seized and corroded assemblies cause excessive frustration, cost time, and the disassembly process can often be dangerous and costly. Conventional pipe dopes and thread tapes can not prevent corrosion.
Additionally, as they shrink and break down over time, pipe dopes and thread tapes can find their way into the sensitive areas of pneumatic and hydraulic systems, resulting in blockages to ports or unseating valves.
Thread Sealants can be used on lines carrying:
Acids (dilute)
Air (compressed gaseous)
Brine
Butane Gas
Carbon Dioxide
Castor Oils
Caustic Alkalis (dilute)
Cutting Oils
Diesel Fuel Oil
Ethylene Glycol
Fatty Acid (liquid)
Freons (all)
Gasoline
Glycerine
Heating Oils
Helium (gaseous)
Hydraulic Oils
Hydrogen
Inert Gases
Jet Fuel
Kerosene
Liquefied Petroleum
Gases
Lubricating Oils
Mineral Oils
Natural Gas
Nitrogen (gaseous)
Petroleum Solvents
Potable Water
Propane
Propylene Glycol
Soap (liquid)
Steam Lines
Vegetable Oils
Water (cold & hot)
and many other uses